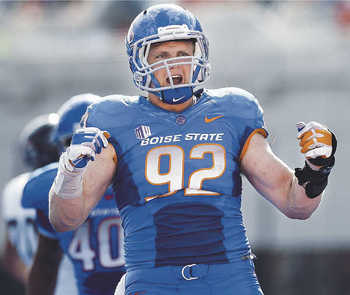 Earlier this week I looked at 10 prospects who will get over drafted based on their potential or athletic ability. Today, I'm flipping to the other side of the coin. Listed below are 10 prospects who I think will be successful in the NFL based on their college production, scheme versatility and athletic ability. This list features only one first-round lock in Fletcher Cox, but most of the other guys on this list should go on the second day of the draft.
1. Fletcher Cox, DT, Mississippi State: Dontari Poe grabbed all the headlines with a truly amazing combine performance, but look closely and you'll see Cox was equally as impressive. The 6-foot-4, 298-pounder ran an amazing 4.79 forty and put up 30 reps on the bench. His agility drills and test times were also off the charts. When you turn on the tape, Cox displays a unique ability to penetrate from any spot on the line. His athleticism translates well to one-gap 4-3 schemes like the Eagles employ, but with his frame, he could be an incredible 3-4 DE with rare pass rush ability.
2. Shea McClellin, OLB, Boise State: If there's one pass-rushing prospect I'd love to see in a Pats uniform, it'd be the 6-foot-3, 260-pound demon from the land of Idaho. McClellin lined up all over the field for the Broncos, excelling as an interior blitzer as well as demonstrating the ability to bend and turn the corner as an edge rusher. He reminds me of a more athletic Mike Vrabel whose tenacious style and versatility would be welcomed in New England.
3. Doug Martin, RB, Boise State: Trent Richardson is by far and away the best back to come out in years, but Martin is being criminally undervalued in mock drafts. The 5-foot-9, 223-pounder posted a solid combine workout after racking up 3,431 yards on 617 carries and 43 touchdowns during his career. He demonstrates the rare ability to contribute on all three downs, excelling at catching the football and pass protection. He'd be a great value at the back end of the first round and even better at the top of round two.
4. Casey Hayward, CB, Vanderbilt: It's no secret the NFL is a passing league. To combat the likes of Tom Brady, Drew Brees and Aaron Rodgers, you need multiple cornerbacks who can not only cover but also make plays on the ball. Despite a lack of elite speed, there's no other defensive back in this draft with as good of ball skills as the former Vanderbilt standout. The 5-foot-11, 192-pounder won't wow anyone with his mid-4.5 speed, but his 15 career interceptions prove he knows how to find the football. He'll make someone very happy in round three.
5. Vinny Curry, DE/OLB, Marshall: My friends at NEPatriotsDraft.com have lusted over Curry for a while now, and for good reason. The man simply knows how to get after the quarterback. Curry is a bit of a tweener, but looks to have the bulk to play either 4-3 end or 3-4 outside linebacker. The owner of 25 career sacks improved on a poor combine performance with an excellent pro day, running a 4.69 forty and improving his vertical jump to 35 inches. Like McClellin, he could sneak into round one for a pass-rush needy team like the Patriots, Packers or Ravens.
6. Lavonte David, OLB, Nebraska: If he was two inches and 20 pounds bigger, David would probably be a top 20 pick. That's how good his game tape is. At 6-foot-1, 233 pounds, David relies on his athleticism and aggressive nature of play to stop ball carriers dead in their tracks. His lack of scheme versatility will probably hurt him, but the man can play football. He should be a great fit as a 4-3 weakside linebacker.
7. Jared Crick, DE, Nebraska: The kid playing under the giant shadow of Ndamukong Suh was actually a solid player himself before he suffered a torn pectoral muscle that forced him to miss last season. However, his frame and length (6-foot-4, 279 pounds) make him an intriguing 3-4 DE prospect. He put up 26 reps at his pro day, proving he's back in shape. Once pegged as a potential first rounder, Crick will go on day two.
8. Brandon Thompson, DT, Clemson: The man nicknamed "Yams" is a force to be reckoned with in the weight room and on the field. Prior to the 2011 season, Thompson was regarded as the best senior defensive tackle in the nation, but the emergence of Devon Still and a boatload of underclassmen have caused his stock to drop. Although he has a tendency to get knocked off his feet too much, Thompson does display a terrific get-off, hand usage and pursuit skills. There are concerns about whether he can be anything more than a one-gap 4-3 nose tackle.
9. Chris Givens, WR, Wake Forest: In a historically deep receiving class, Givens is the one prospect no one talks about. He doesn't have elite explosion, but he brings a solid package of size (6-foot, 198 pounds), speed (4.41) and body control. He's a very good route runner who enters the draft after a terrific junior season (83/1,330/9). Because of the depth of this class, he'll slide into the mid rounds, but could be a steal.
10. Mitchell Schwartz, T/G, California: Positional versatility is key whenever you're not a first-round prospect. Schwartz has the ability to play both guard and tackle and also brings size (6-foot-5, 319 pounds) and experience (36 games at left tackle, 15 at right). His strength lies in his run blocking, and after a dominant Senior Bowl, he is a late riser. He should easily go in the second round.